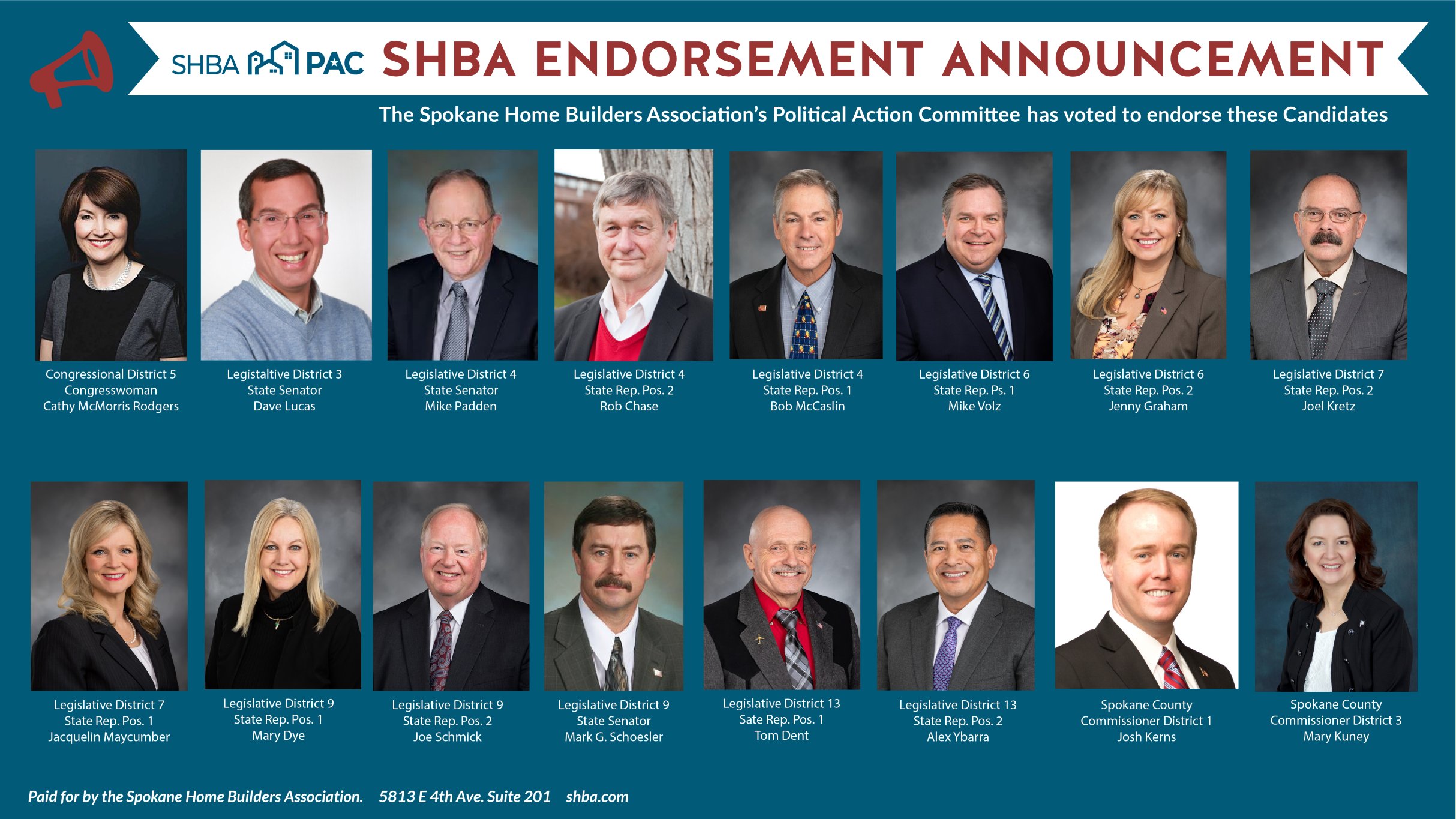 The Spokane Home Builders Association engages in advocacy in two primary ways. First, through the Government Affairs Committee we support industry-friendly legislation, monitor building, permit, and impact fee activity in various jurisdictions, and keep local government accountable to promote timely and efficient building and planning activity. Second, through the Political Action Committee we recruit, train, and support pro-housing candidates to elected office who will support housing and economic growth. Each year we evaluate candidates running for office to identify and support those who will protect the American dream of home ownership and help provide an economic environment in which a wide variety of attainable housing options exist in our community.
This year we reached out to candidates in 21 races across northeast Washington including candidates for Congress, the State Legislature, and County Commissioners. The endorsement process includes a written questionnaire, candidate background screening, and in-person interview with the PAC Interview Committee. As a result, the SHBA Board endorsed 16 candidates, 15 of which finished top two in the Primary Election! These candidates will now appear on the General Election ballot this fall.  Of those continuing on, 14 candidates finished first in the primary and look well poised to win their respective offices. The PAC Committee also endorsed one additional candidate, Rob Chase in the 4th Legislative District and will be evaluating up to three additional county commission races now that the general election field is clear.
As we enter into the final months of 2020, I encourage you to consider how you can be involved in advocating on behalf of the home building industry. Through the Government Affairs Committee you can help contact key officials in local and state government. These conversations are oftentimes pivotal in making sure our voice is heard to lower impact fees, eliminate harmful and overburdensome regulation, and keep permits and inspections timely and efficient. The Government Affairs Committee also hosts regular forums with local government and community leaders to build relationships learn about the issues facing our region.
The 2020 election cycle also presents numerous opportunities to learn about political campaigns and help our endorsed candidates. First, make sure you check out the list of endorsed candidates below and make sure you and your friends, family, and neighbors vote for them in November. Also, through contributions of time and/or money you can provide the necessary support to help our candidates to victory. The PAC Committee will also be continuing to evaluate several races for this fall and have also already begun planning for municipal races in 2021.
If you would like to learn more about any of these ways to serve our industry please reach out to me or our committees to learn more about how to participate.
2020 SHBA Endorsed Candidates
Cathy McMorris Rodgers, 5th Congressional District
Dave Lucas, State Senator – 3rd Legislative District
Mike Padden, State Senator – 4th Legislative District
Bob McCaslin, State Representative – 4th Legislative District
Rob Chase, State Representative – 4th Legislative District
Mike Volz, State Representative – 6th Legislative District
Jenny Graham, State Representative – 6th Legislative District
Jacquelin Maycumber, State Representative – 7th Legislative District
Joel Kretz, State Representative – 7th Legislative District
Mark Schoesler, State Senator – 9th Legislative District
Mary Dye, State Representative – 9th Legislative District
Joe Schmick, State Representative – 9th Legislative District
Tom Dent, State Representative – 13th Legislative District
Alex Ybarra, State Representative – 13th Legislative District
Josh Kerns, Spokane County Commissioner
Mary Kuney, Spokane County Commissioner