More than 360 members were rewarded for workplace safety and received $5,106,610 in returns at The Spokane Home Builders Association's annual Membership BBQ on June 24.
ROII stands for return on industrial insurance and it is the state's largest, longest-operating Retro (Retrospective Rating) safety incentive program. The Retro program rewards businesses that are dedicated to workplace safety with a partial refund on their Labor and Industries insurance premium. At a time when the need for more housing units and skilled workers to build those houses is much greater than the supply, incentives like ROII are important for ending the housing crisis.
Bulldog Rooter and Residential Home Solutions are two of the 365 SHBA members that received a refund check. We spoke with them about their businesses, how they got started in the homebuilding industry and advice they have for young people considering the trades. Know someone who's starting a career or looking to change careers? Share this with them!
Q: Tell us about your business. What does your company do and what's your role in the business?
Bulldog Rooter, Thomas Suwanmaneedang: Bulldog Rooter is a full-service plumbing and drain company. We service all of the Spokane and Coeur D' Alene, Idaho metro area as well as a lot of the outlying areas. I am the General Manager and took on the job in January of 2019. Butch started the business in 2007 out of the back bedroom of his house as a side income and it quickly grew with his level of expert service and customer-first approach. He built an amazing foundation for success by always taking care of the customer and never charging overtime for nights, weekends or holidays, which is still our business model today.
Residential Home Solutions, Elisia Oka: Founded in 2006, Residential Home Solutions is a full-service home improvement general contractor providing expert window, door, and siding installation services to homeowners in Washington and Idaho. We are also an EPA-certified, lead-safe company. Our goal is to offer discerning consumers the latest in technology and quality. Residential Home Solutions is committed to making it a delightful experience for homeowners looking to improve their home. I'm the Controller and also work in Sales and Project Management.
Q: When and why did you enter the building/construction field?
Residential Home Solutions, Elisia Oka: I started working with the owner, Ken Modica, when I was in Sales at KHQ, and Ken brought me on board to work with him at RHS in 2012. I enjoy all aspects of accounting and working with people, so this position gives me the best of both worlds.
Bulldog Rooter, Thomas Suwanmaneedang: I took over in January 2019. We had a smaller crew and were on a bit of a plateau with personnel and fleet. I kind of hit the gas pedal and was bringing an outsider's perspective to a new industry so naturally, I was ignorant to a lot of the industry but I knew that with more people to satisfy the demand, we could grow. With some culture changes, a new approach and a larger crew, we grew quickly. I was in the car business for two decades prior and had a successful tenure growing businesses in the past, so I felt this was a fun challenge in the way of both personal and professional development.
Q: What advice/tips do you have for young people considering building/construction trades?
Bulldog Rooter, Thomas Suwanmaneedang: Don't buy the story that you have to get a college degree to make a good wage. Tradespeople are amongst the highest paid in the workforce. Many techs who had gone to school and received degrees left their fields of training after entering the workforce and found that they could double, triple or more their income by running service. Plumbing is a high-demand field and it will only continue to be. The trades can be highly rewarding and lead to having skills that can also translate back into everyday life. That's what we are most proud of at Bulldog Rooter, that we try to constantly educate our employees and coach them on personal and professional gains. If you aren't the classroom type of learner but you can make or fix things with your mind and hands, then you need to look into the trades. In short, you can be paid to learn instead of pay to learn for those first few years out of high school.
Residential Home Solutions, Elisia Oka: Our advice to young people considering building/construction trades is to work/intern with a few different trades to give you a good idea of where your real interests are, and then focus on becoming fluent in your chosen field. Networking is highly beneficial as well: attend events in your area, and work to get to know builders, contractors, vendors, etc. In most industries, including construction, who you know can get you a jump start in your career, so networking is important! You'll also need individual motivation, and be willing to take the initiative on projects, so don't be afraid to go the extra mile by showing up early and staying until the job is complete, even if it means some long days.
ROII has returned over $500 million in refunds to participating SHBA members since 1982. With an average savings of 37%, ROII consistently delivers higher L&I refunds. You can learn more about ROII here.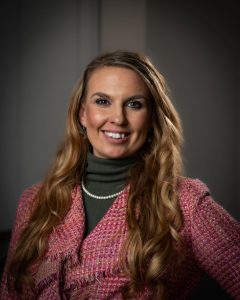 Rebecca Routh | Membership Director